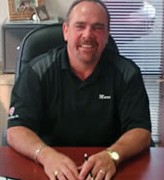 Marc Marier
Owner / Operator
With over thirty three years of experience Marc is the second generation operator of Marcels Collision. Beyond his vast knowledge of the collision repair process, Marc has a lot knowledge of the insurance industry and their the claims process. Marc is also RIBO certified allowing him to teach required classes to the very broker you may purchase insurance from.
On top of all this, he has a masters diploma from CCRM (Certified Collision Repair Management) and is I-car certified. He has also been trained on the Toyota lean process. He's here to take the pain out of the repair process and help you get your car fixed as quickly and efficiently as possible.
Marcel's Collision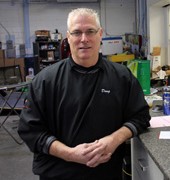 Doug White
Mechanical Department
With over thirty years of experience Doug is currently head of the mechanical department. As a certified mechanic and licensed salesman he's able to help you with any of your mechanical needs.
Doug is qualified to complete; suspension alignments, suspension diagnostics, engine diagnostics and repairs, transmission issues, and on top of all of that he is A/C certified, he can do it all. He also has experience working on marine vessels.
More recently Doug was given the opportunity to branch out into vehicle appraising. He now specializes in writing damage appraisals for insurance and non-insurance repairs.
Marcel's Collision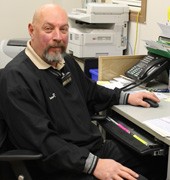 Fred Martineau
Body Shop Manager
Fred's twenty plus years as a licensed collision repair technician is what makes him the perfect candidate to manage the bodyshop. Approximately fifteen years ago he went from working on the floor to assisting with the complete repair process.
From organizing the work flow, working with parts and technicians he's the one that makes things happen. He also has I-Car platinum status and has prior schooling at Fanshawe College.
Marcel's Collision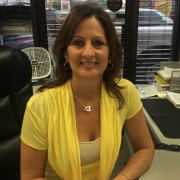 Sharron Strong
Office Administrator
Sharron has been with the company for seventeen years and takes care of all vehicle licensing, leases, type 6 structurals as well as managing the office and assisting with accounting tasks.
She and Shelli work together to answer phones and assist customers with whatever needs it is they have.
Marcel's Collision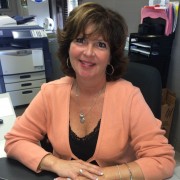 Shelli Hazael
Receptionist
Shelli's smiling face will most likely be the first one you see as you enter Marcels Collision. With over sixteen years experience she's the one who provides secretarial, clerical, and administrative support in order to ensure proper services are provided.
Her warm and fabulous personality will help make what can sometime be a stressful situation much more pleasant!
Marcel's Collision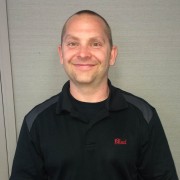 Chad Sylvestre
Appraiser
Chad, the newest addition to our team here at Marcel's, has approximately five year experience in vehicle damage appraisals. Chad handles all of our insurance claims from start to finish and serves our customers like family.
He is a great asset to the business and we look forward to his future here at Marcel's.
Marcel's Collision
Michelle Marier
Financial Controller
Michelle, Marc's daughter, is the third generation of Marier's to get their feet wet in the family business. In 2012, Michelle signed on full time after receiving her Business degree, her second degree from the University of Windsor, as our financial controller. Michelle handles all the finances for the company, as well as, controls all of the rental properties Marcel's has partnered with Jerome Marier & Sons Ltd. Michelle looks forward to learning about the business that has been in her family for over 65 years and hopes make her own mark in its history.
Marcel's Collision
Perhaps more than anything else, Marcel's Collision Inc. is a testament to the strength and power of family.
The business at 5584 Tecumseh Rd. E, boasts a history rich in family pride, determination, perseverance, tenacity and the belief that dreams do come true.
Now solely owned by Marc Marier, the company initially known as Marcel's Service Garage Ltd. was originally established in 1951 by Marc's uncle, Marcel Marier. During the early years Jerome, Marc's father, worked for his brother while doing a stint at Chryslers' and operating a towing business with his brother.
"When we started, half of Tecumseh Road – it was Tecumseh Blvd. at that time – was a dirt road and there were farms on the other side. We had triple A at that time, and it was $2 a call. My wife handled the phone calls and I was on call 24 hours a day. I remember once I was so tired that the phone rang and I picked up my cup of coffee to answer it and poured the coffee right in my ear."
Business was good and the brothers soon branched out into used car sales. Eventually Jerome talked Marcel into expanding and adding complete collision and mechanical services.
Around 1960, the lion's share of responsibility for the business shifted to Jerome, when Marcel's wife became ill. The company continued to expand and grow, branching out into full collision service and requiring two more additions over the years. In 1980, Jerome became sole owner, buying Marcel's portion of the business and bring sons T.J. and Marc into the business.
In 1990, Jerome formed a partnership with T.J. and Marc and that was when they formed Marcel's Collision Inc. Jerome's wife Judy assisted with secretarial and office work in the early years. Daughter Carrie also joined the staff, taking over bookkeeping duties, in the mid 1980's until 2012. Another son, Denis, is a naturopathic doctor. Marc's second daughter, Michelle, signed on as the company's Financial Controller in 2012 which now links the business to three generations of the Marier family to work for Marcel's.
Marc handles the day-to-day operations of the business. The company employs five licensed body repair technicians, three licensed automotive technicians, two qualified painters, five sander/taper prep technicians, one assembly technician, one stock control supervisor, one post repair wash and clean employee, three office secretaries, three qualified appraisal personnel, trained under I-CAR system, and one maintenance man.
Marcel's full service automotive repair and collision services utilize state-of-the-art equipment and technology, including the Mitchell Estimating System and Audatex, which allows damage photos to be sent via computer modem to the insurance company, speeding up insurance claims process.
The body shop utilizes top quality paint products, adding equipment and machinery like the Chief EZ Liner S21R, Chief EZ Liner Universal Gauge Measuring System, Devilbiss Concept Cure Downdraft Paint Booth, Hunter G111 Four Wheel Sensor Computerized Alignment Machine, Amco Brake Lathe, and similar items provide employees with the means to carry out their responsibility in the most effective and efficient manner possible while ensuring the ultimate in employee safety. Marcel's is a recommended repair facility for several insurance companies but does work for any insurance company you are represented by. All work carried out at Marcel's is "100% guaranteed for as long as the customer owns the car," says Marc.
He stresses it is this attention to detail and incredible customer service, as well as, the friendly team type atmosphere which have, in large part, lead to the company's success.